Sto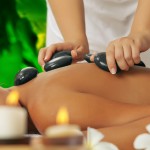 ne Therapy or Hot Stone massage is a thermotherapy using stones to provide both heat and cold and the combination of alternating temperatures can be very beneficial. The heated volcanic stones are used on key acupressure sites and the heat relaxes the muscles, allowing for a much deeper massage. Heated stones can also be placed on the body's chakras, or energy points, working with the body's natural energy to create balance both physically and mentally. Alternatively, the stones can be used as a kind of "place marker", letting the therapist know where more specific massage or treatments are needed.
The stones come in different shapes and sizes and I will select the stones according to your needs.
Cold stones are used to reduce and/or treat inflammation, to remove blood from a swollen area, and to rebalance the male and female energies in the body in order to restore the body to a state of harmony. Cold stones can also be used for detoxification purposes. Using hot and cold stones together can improve the functioning of the circulatory system and assist the body with its self-healing processes.
When getting a stone therapy massage, it is not unusual for the client's body temperature, heart rate and breathing rate to rise and fall during the treatment. This is not harmful and is merely the result of the rapid exchange of oxygen and blood in the body.
All five senses are catered for in a stone therapy massage, with aromatherapy oil and other relaxing tools being used when the massage is carried out. My goal is to bring about deep relaxation in the client so that negativity is removed and the client feels an overall sense of wellbeing.
For a Gift Voucher or for a Treatment for yourself you can pay here